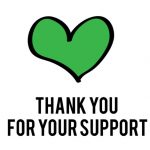 I would like to take this opportunity on behalf of the Kanturk Arts Festival to thank everyone who came out and supported us in great numbers over the weekend.
It takes a lot of planning to organise the festival as well as the odd sleepless night but it makes it all worthwhile when it comes together as it did this year.
There are a lot of people in the background who give their time & help before, during and after the festival. Without you, we would not be able to run the festival, to each and every one of you go raibh míle maith agaibh.
I would like to thank our main sponsors Cork County Council and Kanturk Credit Union without whose generous funding there would be no festival. We are also grateful to our other sponsors Murphy's Bakery, Super-Valu Burtons Topline, Glenrua Cheese, Newmarket.
To O'Callaghans Motors Toyota, Kanturk Rugby Club and Kanturk & District Community Council for use of their premises and to all the traders who let us use their shop windows to turn Kanturk into an open air art gallery for two weeks.
Thank you to our 'Friends of the Festival' whose generous support greatly helps us to develop the festival.
Kanturk Arts Festival prides itself on its inclusivity providing events for children and adults alike, for all ages and abilities, sharing a true community experience.
Its aim from the beginning was to celebrate and promote the arts in the region and to provide a platform and focal point for the arts locally.
I think this year we did just that.
Thanks to exhibiting artists Artists, Elayne O'Connor, Paul O'Flynn, Bríd Moynahan, John Philip Murray.
To Jessica Baron who ran an art workshop and Deborah O'Keeffe who judged the school art.
Thanks to all the local schools for encouraging art in all forms. The standard is high, so the future is safe. Thanks too to Will Fogarty of 'Fear na Coilte Chainsaw Sculptures' for his spectacular creation in The Canon's Wood Park.
To playwrights Aidan O'Keeffe, Siobhan O'Neill, Kieran Buckley, Fidelma O'Connor, Mairead Cunningham, Frankie Mueller, Viv Buckley and Mary Angland
To performers Timmy Lynch, Sandra O'Flynn, Frankie Mueller, Kieran Buckley, Viv Buckley, Siobhan O'Neill, Fidelima O'Connor, Seán Bowman, Seán Corcoran, Viv Buckley, Mairead Cunningham, Sarah Carroll, Mike Guerin, Martin O Riordan, Liam Bowman, Justin Bowman, Aidan Carroll, Nancy Lehane, John O'Sullivan, Noel Carroll, Ruti Lachs and Liam Flynn, Gerry O'Callaghan & Bobby Buckley of Speakeasy Toastmasters, Frances Kennedy (storyteller)
To musicians /singers, Various Voices, Stephen Delee, Jayne Harrington, Muireann Vaughan, Geraldine O' Callaghan, Graham Guerin, Noel Carroll, Siobhan O'Neill, Seán Bowman, Noel Walsh, Scoil Mhuire Traditional Musical Ensemble.
To Nuala O'Connor who opened our festival, judged our international Flash Fiction Competition and ran a very successful workshop and to Mary Bradford who judged the junior flash fiction..
To poets Marie O'Halloran and Gene Barry for adjudicating the Poetry Slam Competition and all the writers and the poets who took part in all our competitions.
That is some list of local talent! Thank you all for agreeing to be part of our family.
It was nice to collaborate with Kanturk Tidy Towns on The Canon's Wood project, hopefully the bees and fairies are as pleased as we are.
I also wish to thank Mike Guerin Drama for helping to turn an idea into a reality.
Finally I want to thanks the rest of the Arts Festival committee Tommy Mullane, Margaret Duggan, Viv Buckley, Mary Angland, Anne Goggin and Margaret Cotter, for all your support and work through out the year and for putting up with my micro management.
We would love if some of you would come and join our committee as we are already planning for 2020.

Chairperson, Kanturk Arts Festival Committee