Poetry Reading 2011
Anthony Keating
and guest readings by Prize Winners of Schools' Poetry Competition
Anthony Keating was born and brought up in Camden in North London but his roots are in Kanturk – his mother came from St. Patrick's Place and his father from Kilroe. He still has an extended family in the area.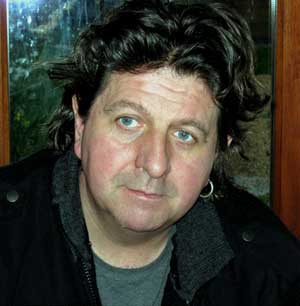 He worked as a Social Worker and academic in Dublin for 15 years up until 2007 and he now works as a Senior Lecturer at Edge Hill University in the north west of England.
Anthony is delighted to have the opportunity to read at the Festival as his first connection with poetry was the memorising and reciting of two poems for his father and his friends, and both of the poems having a strong association with Kanturk.
Among his many distinctions, Anthony has won the Maria Edgeworth Literary Festival Prize and South County Dublin poetry prize. He has also been shortlisted for the prestigious Hennessey Poetry Prize. He has had many publications.
Click here for more about Anthony's work.
Click here for 'Kanturk', a poem written by Anthony following his visit to Kanturk Arts Festival Guest Reader.
Schools' Poetry 2011
(more of the poems will be published in due course – please be patient)
1st place: Sharon Buckley ' THE LITTLE THINGS'

2nd place: Emma Mullane. ' THE DREAM'.

3rd place: Sean Gorman. ' I HAVE LONGED'
………………………………………………………………
THE LITTLE THINGS by Sharon Buckley
When the sun is shining brightly
On a bitter winter's day,
When your friend has all the gossip
And you've got a lot to say;
When you find the missing earring
That you thought could not be found,
And you hear the school bell ring
With its all familiar sound.
Listening to my father
When he attempts to sing,
There is joy to be found
In all the little things.
…………………………..
THE DREAM by Emma Mullane
It sits there idly, waiting to be played,
Sits in my room all through the day.
Its nylon strings have a mind of their own
When I try to play it "in the zone".
I grab it by the neck and get ready to play;
I don't want to leave, just strum and stay.
As all the songs run through my head
I sat there pondering on my bed.
I have a dream of being on stage
Hearing the crowd call out my name.
I open my mouth to express how I feel
And think of the day when I'll be able to leave.
It sits there idly, waiting to be played,
Sits in my room as I dream of the day.
……………………………………….
More about Anthony Keating's Work
Anthony has a distinguished academic career. He studied at City of London Polytechnic and received a BA (Hons) in Politics and Government. At the University of Oxford he received an MSc in Applied Social Studies and a PG Dip Child in Forensic Studies at the University of Leeds. At Dublin City University he received a degree in Psychology and Law, and he also has a PhD in Communications.
He researches and publishes mainly in the area of modern Irish history particularly in the area of sexuality/sexual crime and censorship. In addition to this he is currently researching the use of Christian imagery by the British National Party, a crypto Fascist organisation.
His poetry has been published by Poetry Ireland, The sHOP, Black Mountain Review, Stinging Fly Icarus, Edgeworth Papers, HQ (England), First Time ( England), Concrete Woolf (USA). He has also been published in New Irish Writing in the Sunday Tribune over four separate years.
He was also placed in the Maria Edgeworth Festival prize twice, The Ledwidge Festival Prize twice, Goldsmith International Literary Festival, and the American RDR poetry Prize. He has also been published a review of Dannie Abse's Collected Poems.