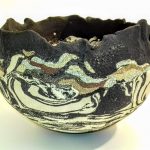 After many years in California where Bernadette worked as a boat captain, and her ambition to obtain an art degree Bernadette began her journey by setting up a ceramic studio in her native Co. Meath in 2011.
To improve her knowledge in 2012 she obtained a place with the Pottery Skills and Design Course offered by the Design and Crafts Council of Ireland in Thomastown, Co. Kilkenny. This course qualified Bernadette to attend Crawford College of Art and Design, Cork.
In June 2018, Bernadette completed her Applied Arts degree studies in Crawford obtaining multiple awards, including the graduate resident award in the ceramics department of Crawford 2019, D.C.C.O.I. Future Makers Award 2019 and Meath County Council Arts office Going Solo Award 2019. She currently works from Backwater Studios in Cork.